Doppler Measurements for 51 Peg.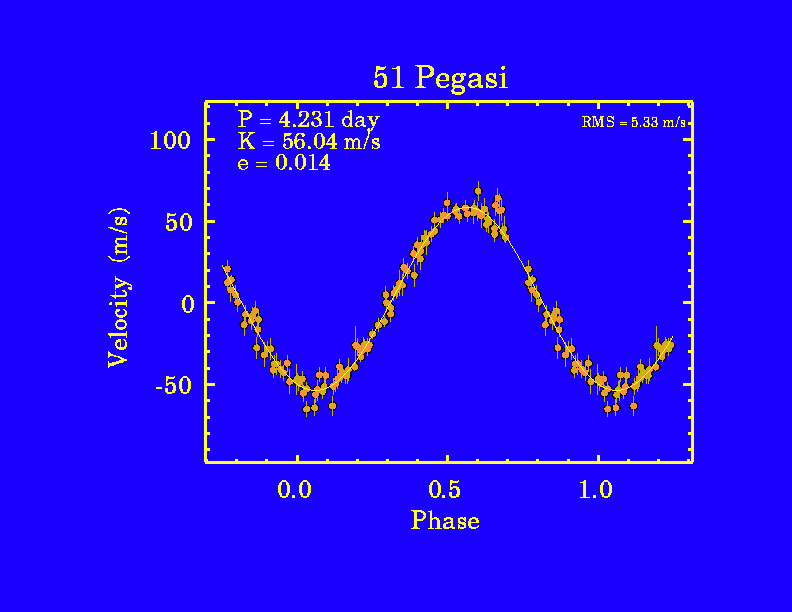 Velocities of 51 Peg vs orbital phase. Observations were made at Lick Observatory between Oct.11, 1995 and Dec. 1996, but are continuing indefinitely. The period is 4.230674 +- 0.00014 days, and the amplitude is 55.5 +- 0.5 m/s. The inferred mass of the companion is: M sin i = 0.45 Jupiter masses. There is no evidence of a second companion, at a level of 3 m/s.
Doppler Measurements vs Time (not phase)
Transits by Planet
Here are predicted times of transit and uncertainties (typically about 15 min). To date, no transit effects, photometric or spectroscopic, have been detected, as of 1 July 2000.
-------------------------------------
DATE UT UNCERT JD
(min) (-2400000)
--------------------------------------------
1995/10/ 7 3:45 15.7 49997.65664
1995/10/11 9:18 15.7 50001.88773
1995/10/15 14:50 15.7 50006.11875
1995/10/19 20:22 15.7 50010.34917
1995/10/24 1:54 15.7 50014.57945
1995/10/28 7:26 15.7 50018.81005
1995/11/ 1 12:59 15.7 50023.04129
1995/11/ 5 18:31 15.7 50027.27208
1995/11/10 0: 3 15.7 50031.50242
1995/11/14 5:35 15.7 50035.73275
1995/11/18 11: 7 15.7 50039.96353
1995/11/22 16:40 15.7 50044.19478
1995/11/26 22:12 15.7 50048.42538
1995/12/ 1 3:44 15.7 50052.65566
1995/12/ 5 9:15 15.7 50056.88608
1995/12/ 9 14:48 15.7 50061.11709
1995/12/13 20:21 15.7 50065.34818
1995/12/18 1:53 15.7 50069.57864
1995/12/22 7:24 15.7 50073.80892
1995/12/26 12:56 15.7 50078.03947
1995/12/30 18:29 15.7 50082.27068
1996/ 1/ 4 0: 2 15.7 50086.50154
1996/ 1/ 8 5:33 15.7 50090.73189
1996/ 1/12 11: 5 15.7 50094.96220
1996/ 1/16 16:37 15.7 50099.19292
1996/ 1/20 22:10 15.7 50103.42419
1996/ 1/25 3:42 15.7 50107.65484
1996/ 1/29 9:14 15.7 50111.88514
1996/ 2/ 2 14:46 15.7 50116.11552
1996/ 2/ 6 20:18 15.7 50120.34646
1996/ 2/11 1:51 15.7 50124.57762
1996/ 2/15 7:23 15.7 50128.80811
1996/ 2/19 12:55 15.7 50133.03839
1996/ 2/23 18:27 15.7 50137.26889
1996/ 2/28 0: 0 15.7 50141.50006
1996/ 3/ 3 5:32 15.7 50145.73098
1996/ 3/ 7 11: 4 15.7 50149.96137
1996/ 3/11 16:35 15.7 50154.19166
1996/ 3/15 22: 8 15.7 50158.42232
1996/ 3/20 3:41 15.7 50162.65359
1996/ 3/24 9:13 15.7 50166.88430
1996/ 3/28 14:45 15.7 50171.11461
1996/ 4/ 1 20:16 15.7 50175.34497
1996/ 4/ 6 1:49 15.7 50179.57583
1996/ 4/10 7:22 15.7 50183.80704
1996/ 4/14 12:54 15.7 50188.03758
1996/ 4/18 18:25 15.7 50192.26786
1996/ 4/22 23:57 15.7 50196.49832
1996/ 4/27 5:30 15.7 50200.72942
1996/ 5/ 1 11: 3 15.7 50204.96043
1996/ 5/ 5 16:34 15.7 50209.19084
1996/ 5/ 9 22: 6 15.7 50213.42112
1996/ 5/14 3:38 15.7 50217.65173
1996/ 5/18 9:11 15.7 50221.88298
1996/ 5/22 14:43 15.7 50226.11376
1996/ 5/26 20:15 15.7 50230.34408
1996/ 5/31 1:47 15.7 50234.57442
1996/ 6/ 4 7:19 15.7 50238.80522
1996/ 6/ 8 12:52 15.7 50243.03646
1996/ 6/12 18:24 15.7 50247.26705
1996/ 6/16 23:56 15.7 50251.49733
1996/ 6/21 5:27 15.7 50255.72776
1996/ 6/25 11: 0 15.7 50259.95878
1996/ 6/29 16:33 15.7 50264.18986
1996/ 7/ 3 22: 5 15.7 50268.42031
1996/ 7/ 8 3:36 15.7 50272.65059
1996/ 7/12 9: 8 15.7 50276.88115
1996/ 7/16 14:41 15.7 50281.11237
1996/ 7/20 20:14 15.7 50285.34321
1996/ 7/25 1:45 15.7 50289.57356
1996/ 7/29 7:17 15.7 50293.80387
1996/ 8/ 2 12:49 15.7 50298.03461
1996/ 8/ 6 18:22 15.7 50302.26587
1996/ 8/10 23:54 15.7 50306.49651
1996/ 8/15 5:26 15.7 50310.72680
1996/ 8/19 10:58 15.7 50314.95720
1996/ 8/23 16:30 15.7 50319.18815
1996/ 8/27 22: 3 15.7 50323.41930
1996/ 9/ 1 3:35 15.7 50327.64978
1996/ 9/ 5 9: 7 15.7 50331.88006
1996/ 9/ 9 14:39 15.7 50336.11057
1996/ 9/13 20:12 15.7 50340.34175
1996/ 9/18 1:44 15.7 50344.57266
1996/ 9/22 7:16 15.7 50348.80303
1996/ 9/26 12:47 15.7 50353.03333
1996/ 9/30 18:20 15.7 50357.26401
1996/10/ 4 23:53 15.7 50361.49528
1996/10/ 9 5:25 15.7 50365.72597
1996/10/13 10:57 15.7 50369.95628
1996/10/17 16:28 15.7 50374.18664
1996/10/21 22: 1 15.7 50378.41752
1996/10/26 3:34 15.7 50382.64872
1996/10/30 9: 6 15.7 50386.87925
1996/11/ 3 14:37 15.7 50391.10953
1996/11/ 7 20: 9 15.7 50395.34000
1996/11/12 1:42 15.7 50399.57112
1996/11/16 7:15 15.7 50403.80210
1996/11/20 12:46 15.7 50408.03251
1996/11/24 18:18 15.7 50412.26279
1996/11/28 23:50 15.7 50416.49342
1996/12/ 3 5:23 15.7 50420.72467
1996/12/ 7 10:55 15.7 50424.95543
1996/12/11 16:27 15.7 50429.18575
1996/12/15 21:59 15.7 50433.41609
1996/12/20 3:31 15.7 50437.64691
1996/12/24 9: 4 15.7 50441.87814
1996/12/28 14:36 15.7 50446.10872
1997/ 1/ 1 20: 8 15.7 50450.33900
1997/ 1/ 6 1:39 15.7 50454.56943
1997/ 1/10 7:12 15.7 50458.80048
1997/ 1/14 12:45 15.7 50463.03154
1997/ 1/18 18:17 15.7 50467.26198
1997/ 1/22 23:48 15.7 50471.49226
1997/ 1/27 5:20 15.7 50475.72283
1997/ 1/31 10:53 15.7 50479.95406
1997/ 2/ 4 16:26 15.7 50484.18488
1997/ 2/ 8 21:57 15.7 50488.41523
1997/ 2/13 3:29 15.7 50492.64555
1997/ 2/17 9: 1 15.7 50496.87630
1997/ 2/21 14:34 15.7 50501.10756
1997/ 2/25 20: 6 15.7 50505.33818
1997/ 3/ 2 1:38 15.7 50509.56847
1997/ 3/ 6 7:10 15.7 50513.79887
1997/ 3/10 12:42 15.7 50518.02984
1997/ 3/14 18:15 15.7 50522.26097
1997/ 3/18 23:47 15.7 50526.49145
1997/ 3/23 5:19 15.7 50530.72173
1997/ 3/27 10:51 15.7 50534.95225
1997/ 3/31 16:24 15.7 50539.18344
1997/ 4/ 4 21:56 15.7 50543.41433
1997/ 4/ 9 3:28 15.7 50547.64470
1997/ 4/13 9: 0 15.7 50551.87500
1997/ 4/17 14:32 15.7 50556.10569
1997/ 4/21 20: 5 15.7 50560.33696
1997/ 4/26 1:37 15.7 50564.56765
1997/ 4/30 7: 9 15.7 50568.79795
1997/ 5/ 4 12:40 15.7 50573.02832
1997/ 5/ 8 18:13 15.7 50577.25922
1997/ 5/12 23:46 15.7 50581.49040
1997/ 5/17 5:18 15.7 50585.72092
1997/ 5/21 10:49 15.7 50589.95120
1997/ 5/25 16:21 15.7 50594.18168
1997/ 5/29 21:54 15.7 50598.41282
1997/ 6/ 3 3:27 15.7 50602.64378
1997/ 6/ 7 8:58 15.7 50606.87418
1997/ 6/11 14:30 15.7 50611.10447
1997/ 6/15 20: 2 15.7 50615.33510
1997/ 6/20 1:35 15.7 50619.56636
1997/ 6/24 7: 7 15.7 50623.79710
1997/ 6/28 12:39 15.7 50628.02742
1997/ 7/ 2 18:11 15.7 50632.25777
1997/ 7/ 6 23:43 15.7 50636.48860
1997/ 7/11 5:16 15.7 50640.71982
1997/ 7/15 10:48 15.7 50644.95039
1997/ 7/19 16:20 15.7 50649.18067
1997/ 7/23 21:52 15.7 50653.41111
1997/ 7/28 3:24 15.7 50657.64218
1997/ 8/ 1 8:57 15.7 50661.87322
1997/ 8/ 5 14:29 15.7 50666.10365
1997/ 8/ 9 20: 0 15.7 50670.33393
1997/ 8/14 1:32 15.7 50674.56451
1997/ 8/18 7: 5 15.7 50678.79575
1997/ 8/22 12:38 15.7 50683.02656
1997/ 8/26 18: 9 15.7 50687.25690
1997/ 8/30 23:41 15.7 50691.48722
1997/ 9/ 4 5:13 15.7 50695.71799
1997/ 9/ 8 10:46 15.7 50699.94924
1997/ 9/12 16:18 15.7 50704.17986
1997/ 9/16 21:50 15.7 50708.41014
1997/ 9/21 3:22 15.7 50712.64055
1997/ 9/25 8:55 15.7 50716.87154
1997/ 9/29 14:27 15.7 50721.10265
1997/10/ 3 19:59 15.7 50725.33312
1997/10/ 8 1:31 15.7 50729.56340
1997/10/12 7: 3 15.7 50733.79393
1997/10/16 12:36 15.7 50738.02514
1997/10/20 18: 8 15.7 50742.25601
1997/10/24 23:40 15.7 50746.48637
1997/10/29 5:12 15.7 50750.71668
1997/11/ 2 10:44 15.7 50754.94738
1997/11/ 6 16:17 15.7 50759.17865
1997/11/10 21:49 15.7 50763.40932
1997/11/15 3:21 15.7 50767.63962
1997/11/19 8:52 15.7 50771.86999
1997/11/23 14:25 15.7 50776.10091
1997/11/27 19:58 15.7 50780.33208
1997/12/ 2 1:30 15.7 50784.56259
1997/12/ 6 7: 1 15.7 50788.79287
1997/12/10 12:33 15.7 50793.02336
1997/12/14 18: 6 15.7 50797.25451
1997/12/18 23:39 15.7 50801.48546
1997/12/23 5:10 15.7 50805.71585
1997/12/27 10:42 15.7 50809.94614
1997/12/31 16:14 15.7 50814.17679
1998/ 1/ 4 21:47 15.7 50818.40805
1998/ 1/ 9 3:19 15.7 50822.63878
1998/ 1/13 8:51 15.7 50826.86909
1998/ 1/17 14:23 15.7 50831.09944
1998/ 1/21 19:55 15.7 50835.33029
1998/ 1/26 1:28 15.7 50839.56151
1998/ 1/30 7: 0 15.7 50843.79206
1998/ 2/ 3 12:32 15.7 50848.02234
1998/ 2/ 7 18: 4 15.7 50852.25279
1998/ 2/11 23:36 15.7 50856.48388
1998/ 2/16 5: 9 15.7 50860.71490
1998/ 2/20 10:41 15.7 50864.94532
1998/ 2/24 16:12 15.7 50869.17560
1998/ 2/28 21:44 15.7 50873.40620
1998/ 3/ 5 3:17 15.7 50877.63744
1998/ 3/ 9 8:50 15.7 50881.86823
1998/ 3/13 14:21 15.7 50886.09856
1998/ 3/17 19:53 15.7 50890.32889
1998/ 3/22 1:25 15.7 50894.55967
1998/ 3/26 6:58 15.7 50898.79092
1998/ 3/30 12:30 15.7 50903.02153
1998/ 4/ 3 18: 2 15.7 50907.25181
1998/ 4/ 7 23:34 15.7 50911.48223
1998/ 4/12 5: 7 15.7 50915.71324
1998/ 4/16 10:39 15.7 50919.94433
1998/ 4/20 16:11 15.7 50924.17479
1998/ 4/24 21:43 15.7 50928.40507
1998/ 4/29 3:15 15.7 50932.63561
1998/ 5/ 3 8:48 15.7 50936.86683
1998/ 5/ 7 14:20 15.7 50941.09768
1998/ 5/11 19:52 15.7 50945.32804
1998/ 5/16 1:24 15.7 50949.55835
1998/ 5/20 6:56 15.7 50953.78907
1998/ 5/24 12:29 15.7 50958.02033
1998/ 5/28 18: 1 15.7 50962.25099
1998/ 6/ 1 23:33 15.7 50966.48128
1998/ 6/ 6 5: 4 15.7 50970.71167
1998/ 6/10 10:37 15.7 50974.94260
1998/ 6/14 16:10 15.7 50979.17376
1998/ 6/18 21:42 15.7 50983.40426
1998/ 6/23 3:13 15.7 50987.63454
1998/ 6/27 8:45 15.7 50991.86504
1998/ 7/ 1 14:18 15.7 50996.09620
1998/ 7/ 5 19:51 15.7 51000.32713
1998/ 7/10 1:22 15.7 51004.55751
1998/ 7/14 6:54 15.7 51008.78781
1998/ 7/18 12:26 15.7 51013.01847
1998/ 7/22 17:59 15.7 51017.24974
1998/ 7/26 23:31 15.7 51021.48045
1998/ 7/31 5: 3 15.7 51025.71076
1998/ 8/ 4 10:35 15.7 51029.94112
1998/ 8/ 8 16: 7 15.7 51034.17198
1998/ 8/12 21:40 15.7 51038.40319
1998/ 8/17 3:12 15.7 51042.63373
1998/ 8/21 8:44 15.7 51046.86401
1998/ 8/25 14:16 15.7 51051.09447
1998/ 8/29 19:48 15.7 51055.32557
1998/ 9/ 3 1:21 15.7 51059.55657
1998/ 9/ 7 6:53 15.7 51063.78699
1998/ 9/11 12:24 15.7 51068.01727
1998/ 9/15 17:56 15.7 51072.24788
1998/ 9/19 23:29 15.7 51076.47913
1998/ 9/24 5: 2 15.7 51080.70991
1998/ 9/28 10:33 15.7 51084.94023
1998/10/ 2 16: 5 15.7 51089.17057
1998/10/ 6 21:37 15.7 51093.40136
1998/10/11 3:10 15.7 51097.63261
1998/10/15 8:43 15.7 51101.86320
1998/10/19 14:14 15.7 51106.09348
1998/10/23 19:46 15.7 51110.32390
1998/10/28 1:19 15.7 51114.55493
1998/11/ 1 6:51 15.7 51118.78601
1998/11/ 5 12:23 15.7 51123.01646
1998/11/ 9 17:55 15.7 51127.24674
1998/11/13 23:27 15.7 51131.47730
1998/11/18 5: 0 15.7 51135.70852
1998/11/22 10:32 15.7 51139.93936
1998/11/26 16: 4 15.7 51144.16971
1998/11/30 21:36 15.7 51148.40002
1998/12/ 5 3: 8 15.7 51152.63076
1998/12/ 9 8:41 15.7 51156.86202
1998/12/13 14:13 15.7 51161.09266
1998/12/17 19:45 15.7 51165.32295
1998/12/22 1:16 15.7 51169.55335
1998/12/26 6:49 15.7 51173.78430
1998/12/30 12:22 15.7 51178.01544
1999/ 1/ 3 17:54 15.7 51182.24593
1999/ 1/ 7 23:25 15.7 51186.47621
1999/ 1/12 4:57 15.7 51190.70672
1999/ 1/16 10:30 15.7 51194.93790
1999/ 1/20 16: 3 15.7 51199.16881
1999/ 1/24 21:34 15.7 51203.39918
1999/ 1/29 3: 6 15.7 51207.62948
1999/ 2/ 2 8:38 15.7 51211.86016
1999/ 2/ 6 14:11 15.7 51216.09142
1999/ 2/10 19:43 15.7 51220.32212
1999/ 2/15 1:15 15.7 51224.55243
1999/ 2/19 6:47 15.7 51228.78279
1999/ 2/23 12:19 15.7 51233.01367
1999/ 2/27 17:52 15.7 51237.24487
1999/ 3/ 3 23:24 15.7 51241.47540
1999/ 3/ 8 4:56 15.7 51245.70568
1999/ 3/12 10:28 15.7 51249.93615
1999/ 3/16 16: 0 15.7 51254.16727
1999/ 3/20 21:33 15.7 51258.39825
1999/ 3/25 3: 5 15.7 51262.62866
1999/ 3/29 8:36 15.7 51266.85894
1999/ 4/ 2 14: 8 15.7 51271.08956
1999/ 4/ 6 19:41 15.7 51275.32082
1999/ 4/11 1:14 15.7 51279.55158
1999/ 4/15 6:45 15.7 51283.78190
1999/ 4/19 12:17 15.7 51288.01224
1999/ 4/23 17:49 15.7 51292.24305
1999/ 4/27 23:22 15.7 51296.47429
1999/ 5/ 2 4:55 15.7 51300.70487
1999/ 5/ 6 10:26 15.7 51304.93515
1999/ 5/10 15:58 15.7 51309.16558
1999/ 5/14 21:31 15.7 51313.39663
1999/ 5/19 3: 3 15.7 51317.62769
1999/ 5/23 8:35 15.7 51321.85813
1999/ 5/27 14: 7 15.7 51326.08841
1999/ 5/31 19:39 15.7 51330.31898
1999/ 6/ 5 1:12 15.7 51334.55021
1999/ 6/ 9 6:44 15.7 51338.78103
1999/ 6/13 12:16 15.7 51343.01138
1999/ 6/17 17:48 15.7 51347.24170
1999/ 6/21 23:20 15.7 51351.47244
1999/ 6/26 4:53 15.7 51355.70370
1999/ 6/30 10:25 15.7 51359.93433
1999/ 7/ 4 15:57 15.7 51364.16462
1999/ 7/ 8 21:28 15.7 51368.39502
1999/ 7/13 3: 1 15.7 51372.62599
1999/ 7/17 8:34 15.7 51376.85712
1999/ 7/21 14: 6 15.7 51381.08760
1999/ 7/25 19:37 15.7 51385.31788
1999/ 7/30 1: 9 15.7 51389.54840
1999/ 8/ 3 6:42 15.7 51393.77959
1999/ 8/ 7 12:15 15.7 51398.01048
1999/ 8/11 17:46 15.7 51402.24085
1999/ 8/15 23:18 15.7 51406.47115
1999/ 8/20 4:50 15.7 51410.70184
1999/ 8/24 10:23 15.7 51414.93311
1999/ 8/28 15:55 15.7 51419.16379
1999/ 9/ 1 21:27 15.7 51423.39409
1999/ 9/ 6 2:59 15.7 51427.62447
1999/ 9/10 8:31 15.7 51431.85536
1999/ 9/14 14: 4 15.7 51436.08655
1999/ 9/18 19:36 15.7 51440.31707
1999/ 9/23 1: 8 15.7 51444.54735
1999/ 9/27 6:40 15.7 51448.77783
1999/10/ 1 12:12 15.7 51453.00896
1999/10/ 5 17:45 15.7 51457.23993
1999/10/ 9 23:17 15.7 51461.47033
1999/10/14 4:48 15.7 51465.70061
1999/10/18 10:20 15.7 51469.93125
1999/10/22 15:54 15.7 51474.16251
1999/10/26 21:26 15.7 51478.39325
1999/10/31 2:57 15.7 51482.62357
1999/11/ 4 8:29 15.7 51486.85392
1999/11/ 8 14: 2 15.7 51491.08474
1999/11/12 19:34 15.7 51495.31597
1999/11/17 1: 7 15.7 51499.54654
1999/11/21 6:38 15.7 51503.77682
1999/11/25 12:10 15.7 51508.00726
1999/11/29 17:43 15.7 51512.23833
1999/12/ 3 23:15 15.7 51516.46937
1999/12/ 8 4:47 15.7 51520.69980
1999/12/12 10:19 15.7 51524.93008
1999/12/16 15:51 15.7 51529.16066
1999/12/20 21:24 15.7 51533.39190
1999/12/25 2:56 15.9 51537.62271
1999/12/29 8:28 16.0 51541.85304
2000/ 1/ 2 14: 0 16.2 51546.08337
2000/ 1/ 6 19:32 16.3 51550.31413
2000/ 1/11 1: 5 16.5 51554.54539
2000/ 1/15 6:37 16.7 51558.77600
2000/ 1/19 12: 9 16.8 51563.00629
2000/ 1/23 17:40 17.0 51567.23670
2000/ 1/27 23:13 17.2 51571.46769
2000/ 2/ 1 4:46 17.3 51575.69880
2000/ 2/ 5 10:18 17.5 51579.92927
2000/ 2/ 9 15:49 17.6 51584.15955
2000/ 2/13 21:21 17.8 51588.39008
2000/ 2/18 2:54 18.0 51592.62128
2000/ 2/22 8:27 18.1 51596.85216
2000/ 2/26 13:58 18.3 51601.08252
2000/ 3/ 1 19:30 18.5 51605.31283
2000/ 3/ 6 1: 2 18.6 51609.54353
2000/ 3/10 6:35 18.8 51613.77480
2000/ 3/14 12: 7 19.0 51618.00547
2000/ 3/18 17:39 19.1 51622.23576
2000/ 3/22 23:11 19.3 51626.46614
2000/ 3/27 4:43 19.4 51630.69706
2000/ 3/31 10:16 19.6 51634.92823
2000/ 4/ 4 15:48 19.8 51639.15874
2000/ 4/ 8 21:20 19.9 51643.38901
2000/ 4/13 2:52 20.1 51647.61951
2000/ 4/17 8:24 20.3 51651.85066
2000/ 4/21 13:57 20.4 51656.08160
2000/ 4/25 19:29 20.6 51660.31199
2000/ 4/30 1: 0 20.8 51664.54229
2000/ 5/ 4 6:33 20.9 51668.77293
2000/ 5/ 8 12: 6 21.1 51673.00420
2000/ 5/12 17:38 21.2 51677.23492
2000/ 5/16 23: 9 21.4 51681.46524
2000/ 5/21 4:41 21.6 51685.69559
2000/ 5/25 10:14 21.7 51689.92643
2000/ 5/29 15:47 21.9 51694.15765
2000/ 6/ 2 21:19 22.1 51698.38821
2000/ 6/ 7 2:50 22.2 51702.61849
2000/ 6/11 8:22 22.4 51706.84894
2000/ 6/15 13:55 22.6 51711.08002
2000/ 6/19 19:27 22.7 51715.31104
2000/ 6/24 0:59 22.9 51719.54147
2000/ 6/28 6:31 23.0 51723.77175
2000/ 7/ 2 12: 3 23.2 51728.00234
2000/ 7/ 6 17:36 23.4 51732.23359
2000/ 7/10 23: 8 23.5 51736.46438
2000/ 7/15 4:40 23.7 51740.69471
2000/ 7/19 10:12 23.9 51744.92504
2000/ 7/23 15:44 24.0 51749.15582
2000/ 7/27 21:17 24.2 51753.38707
2000/ 8/ 1 2:49 24.4 51757.61767
2000/ 8/ 5 8:21 24.5 51761.84796
2000/ 8/ 9 13:52 24.7 51766.07838
2000/ 8/13 19:25 24.8 51770.30938
2000/ 8/18 0:58 25.0 51774.54048
2000/ 8/22 6:30 25.2 51778.77094
2000/ 8/26 12: 1 25.3 51783.00122
2000/ 8/30 17:33 25.5 51787.23176
2000/ 9/ 3 23: 6 25.7 51791.46297
2000/ 9/ 8 4:39 25.8 51795.69383
2000/ 9/12 10:10 26.0 51799.92419
2000/ 9/16 15:42 26.2 51804.15450
2000/ 9/20 21:14 26.3 51808.38522
2000/ 9/25 2:47 26.5 51812.61648
2000/ 9/29 8:19 26.6 51816.84714
2000/10/ 3 13:51 26.8 51821.07743
2000/10/ 7 19:23 27.0 51825.30782
2000/10/12 0:55 27.1 51829.53875
2000/10/16 6:28 27.3 51833.76991
2000/10/20 12: 0 27.5 51838.00041
2000/10/24 17:32 27.6 51842.23068
2000/10/28 23: 4 27.8 51846.46119
2000/11/ 2 4:36 28.0 51850.69235
2000/11/ 6 10: 9 28.1 51854.92328
2000/11/10 15:41 28.3 51859.15366
2000/11/14 21:12 28.4 51863.38396
2000/11/19 2:45 28.6 51867.61462
2000/11/23 8:18 28.8 51871.84588
2000/11/27 13:50 28.9 51876.07660
2000/12/ 1 19:21 29.1 51880.30691
2000/12/ 6 0:53 29.3 51884.53726
2000/12/10 6:26 29.4 51888.76813
2000/12/14 11:59 29.6 51892.99934
2000/12/18 17:31 29.8 51897.22988
2000/12/22 23: 2 29.9 51901.46016
2000/12/27 4:34 30.1 51905.69062
2000/12/31 10: 7 30.2 51909.92172
2001/ 1/ 4 15:39 30.4 51914.15272
2001/ 1/ 8 21:11 30.6 51918.38314
2001/ 1/13 2:43 30.7 51922.61342
2001/ 1/17 8:15 30.9 51926.84403
2001/ 1/21 13:48 31.1 51931.07528
2001/ 1/25 19:20 31.2 51935.30605
2001/ 1/30 0:52 31.4 51939.53638
2001/ 2/ 3 6:24 31.6 51943.76672
2001/ 2/ 7 11:56 31.7 51947.99751
2001/ 2/11 17:29 31.9 51952.22875
2001/ 2/15 23: 1 32.0 51956.45935
2001/ 2/20 4:33 32.2 51960.68963
2001/ 2/24 10: 4 32.4 51964.92005
2001/ 2/28 15:37 32.5 51969.15108
2001/ 3/ 4 21:10 32.7 51973.38216
2001/ 3/ 9 2:42 32.9 51977.61261
2001/ 3/13 8:13 33.0 51981.84289
2001/ 3/17 13:45 33.2 51986.07344
2001/ 3/21 19:18 33.4 51990.30467
2001/ 3/26 0:51 33.5 51994.53551
2001/ 3/30 6:22 33.7 51998.76586
2001/ 4/ 3 11:54 33.8 52002.99617
2001/ 4/ 7 17:26 34.0 52007.22690
2001/ 4/11 22:59 34.2 52011.45817
2001/ 4/16 4:31 34.3 52015.68881
2001/ 4/20 10: 3 34.5 52019.91910
2001/ 4/24 15:35 34.7 52024.14949
2001/ 4/28 21: 7 34.8 52028.38044
2001/ 5/ 3 2:40 35.0 52032.61159
2001/ 5/ 7 8:12 35.2 52036.84208
2001/ 5/11 13:44 35.3 52041.07235
2001/ 5/15 19:16 35.5 52045.30287
2001/ 5/20 0:49 35.6 52049.53404
2001/ 5/24 6:21 35.8 52053.76495
2001/ 5/28 11:53 36.0 52057.99533
2001/ 6/ 1 17:24 36.1 52062.22563
2001/ 6/ 5 22:57 36.3 52066.45630
2001/ 6/10 4:30 36.5 52070.68757
2001/ 6/14 10: 2 36.6 52074.91827
2001/ 6/18 15:33 36.8 52079.14857
2001/ 6/22 21: 5 37.0 52083.37894
2001/ 6/27 2:38 37.1 52087.60982
2001/ 7/ 1 8:11 37.3 52091.84102
2001/ 7/ 5 13:43 37.4 52096.07155
2001/ 7/ 9 19:14 37.6 52100.30182
2001/ 7/14 0:46 37.8 52104.53230
2001/ 7/18 6:19 37.9 52108.76341
2001/ 7/22 11:51 38.1 52112.99440
2001/ 7/26 17:23 38.3 52117.22480
2001/ 7/30 22:55 38.4 52121.45509
2001/ 8/ 4 4:27 38.6 52125.68571
2001/ 8/ 8 10: 0 38.8 52129.91697
2001/ 8/12 15:32 38.9 52134.14773
2001/ 8/16 21: 4 39.1 52138.37805
2001/ 8/21 2:36 39.2 52142.60839
2001/ 8/25 8: 8 39.4 52146.83920
2001/ 8/29 13:41 39.6 52151.07044
2001/ 9/ 2 19:13 39.7 52155.30102
2001/ 9/ 7 0:45 39.9 52159.53130
2001/ 9/11 6:16 40.1 52163.76173
2001/ 9/15 11:49 40.2 52167.99278
2001/ 9/19 17:22 40.4 52172.22384
2001/ 9/23 22:54 40.6 52176.45428
2001/ 9/28 4:25 40.7 52180.68456
2001/10/ 2 9:57 40.9 52184.91513
2001/10/ 6 15:30 41.0 52189.14636
2001/10/10 21: 3 41.2 52193.37718
-------------------------------------------- Orbital Elements
P = 4.230674
To = 50068.520811 e = 0.000000 Ephemeris of Transits: t = 2449997.657 n(4.230674) IDL>